Virginia Beach Restaurant week has come and gone, but the memories that I have of it still lingers in my mind (and taste buds).
This year was my first experience with Virginia Beach Restaurant week and I wanted to make it a memorable one. With close to 100 restaurants participating, in locations from the Kempsville all the way to the Ocean front, it was no easy task going through the menus deciding on where I would go. Fire and Vine in Hilltop was my top choice.
Their menu had an assortment of offerings, and $32 got me my choice of items from a set 3 course menu.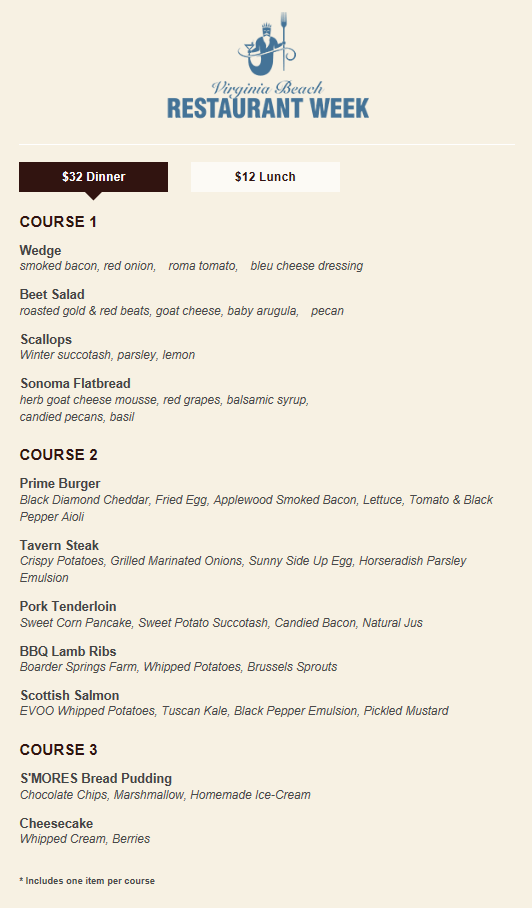 1st Course: Scallops with Winter Succotash, parsley and lemon.
This could have easily served as a main entrée in many places. The scallops were caramelized and seared perfectly on the outside, with a moist center. The succotash combined with tomatoes and lemon were not overly acidic and the herbs provided a bright but filling consistency.
2nd Course: Tavern Steak with Crispy Potatoes, Grilled Marinated Onions, Sunny Side Up Egg, and a horseradish parsley emulsion.
Steak purists have said that if a steak is cooked properly, it doesn't need any extras. They say, additional sauces take away from the flavor of the meat. While my steak was juicy and tender on its own, the emulsion and egg added an extra layer of flavor that I never thought I would appreciate.
3rd Course: Smores' bread pudding with Chocolate Chips, marshmallow and ice cream.
Before the third course came, I was stuffed and would have been satisfied ending my dinner there, but I had to make room for dessert. The ice cream had pure vanilla bean, the bread pudding had a gooey and light texture from the rich chocolate and marshmallows. It took me back to my girl scout campfire days.
A classic ending to a perfect dinner. All of the items on their restaurant week menu are also on their regular menu, so you (but mostly me), can come here and get what I had at anytime. I hope you will.